We offer you a free introduction to the handling of the CelsisuEC (former 6SigmaET) software with a subsequent test license.
ALPHA-Numerics and CelsisuEC in brief
ALPHA-Numerics GmbH is not only the supplier of the CFD software CelsisuEC and looks after the German and English speaking hotline in 8 European Countries; we also run an engineering office and work as an extended workbench for job simulations and consulting in equipment optimisation. Of course, the topic is always "electronics cooling"!
CelsisuEC is an industry-specific simulation tool for electronic device development. With the focus on "electronics must be cooled", the user interface of the software as well as the complexity of the solver have been optimised and streamlined to such an extent that this tool can be used by any hardware developer or designer in his daily work process. CelsisuEC is used in the concept phase by simple, easily definable components or assemblies such as PCBs, fans, heat sinks or fluid coolers or in the advanced development phase by importing design data (e.g. Step) or hardware details (e.g. Gerber or ODB++).
Are you an engineer in a development team and will be responsible for the thermal management of your product in the future?
Register today for a free introduction to CelsiusEC and a subsequent 1-month test phase with activation of all functions and accompanying technical support.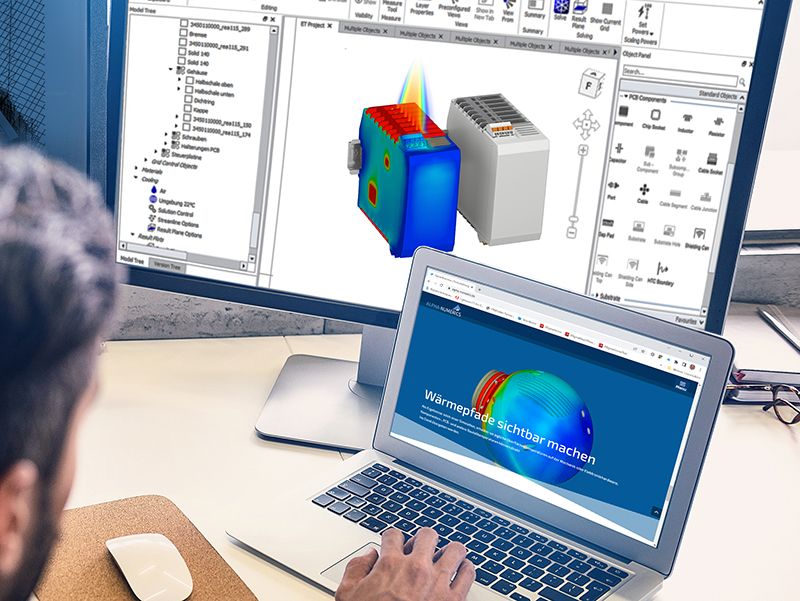 This introduction will take place online and will be given by a trainer who will talk for 2 hours about the most important functions for model creation, solver start and result evaluation. During this compact seminar, questions are collected via the group chat and answered in the subsequent 30 minutes.
This does not replace a professional training (usually 8h with 4 blocks of 2h each for a flat rate of 1.300€ for up to 4 participants of a company), but it helps you to conduct a serious test phase.
For the subsequent test phase, you will receive special exercises to familiarise yourself with the software as quickly and efficiently as possible.
Discount codes – there are 2 dates to choose from
Seminar date German Language: 28.06.23 // 09:00 hrs – 11:30 hrs + subsequent 30-day test phase ALPHAtrnGE
Seminar date English Language: 28.06.23 // 13:00 hrs – 15:30 hrs + subsequent 30-day test phase ALPHAtrnEN
Requires registration using your official company contact details with company email address.
Students please contact us separately if we are allowed to support a bachelor or master thesis with our software. Requests with private email addresses (@web, @gmail, etc.) can unfortunately not be considered.
Please fill out the following form to confirm your contact details and the trial licence conditions and note the discount code for the desired date in the note field. This data will also be stored with the software manufacturer Cadence for processing and activation of the test licence and can of course be deleted again after the test phase if desired.