6SigmaET is one of the fastest growing thermal simulation software tools on the market for a reason. Designed specifically for the electronics industry, we strive to create a smart, automated and accurate solution to help you overcome your thermal design challenges with ease.
Release 15 offers important developments that underline this commitment. Gain new insights, collaborate across industries and design better with 6SigmaET Release 15.
Release 15 of 6SigmaET includes a number of new and improved features, the most important of which are listed below.
6SigmaET now also available in German!
Of course, the English language is more or less considered standard these days. But in the last 10 years we have received a lot of praise for our offer of German-language software training, and technical modelling support via the ALPHA-Numerics hotline. In the meantime, we offer any training on-site at the customer's premises, in our training rooms or flexibly in several 2h blocks via web session with a trainer. For about 6 years we have been continuously expanding our support pages for software users in two languages (English and German). The last icing on the cake, however, has always been the lack of German menu navigation in the software itself – which we can now offer with Release 15!
Optimisation of the fluid cooling!
Another highlight is the coupling of a 1D fluid network solver, which can be directly coupled to the 3D CFD simulation. This allows you to transfer complex inlet piping to possibly parallel coupled cold plates and their pressure loss directly into the 3D calculation in order to calculate the cold plate in full CFD scope with realistic input conditions.
By the way – the pump can now also be described via a curve and programmed via a controller, e.g. temperature-controlled.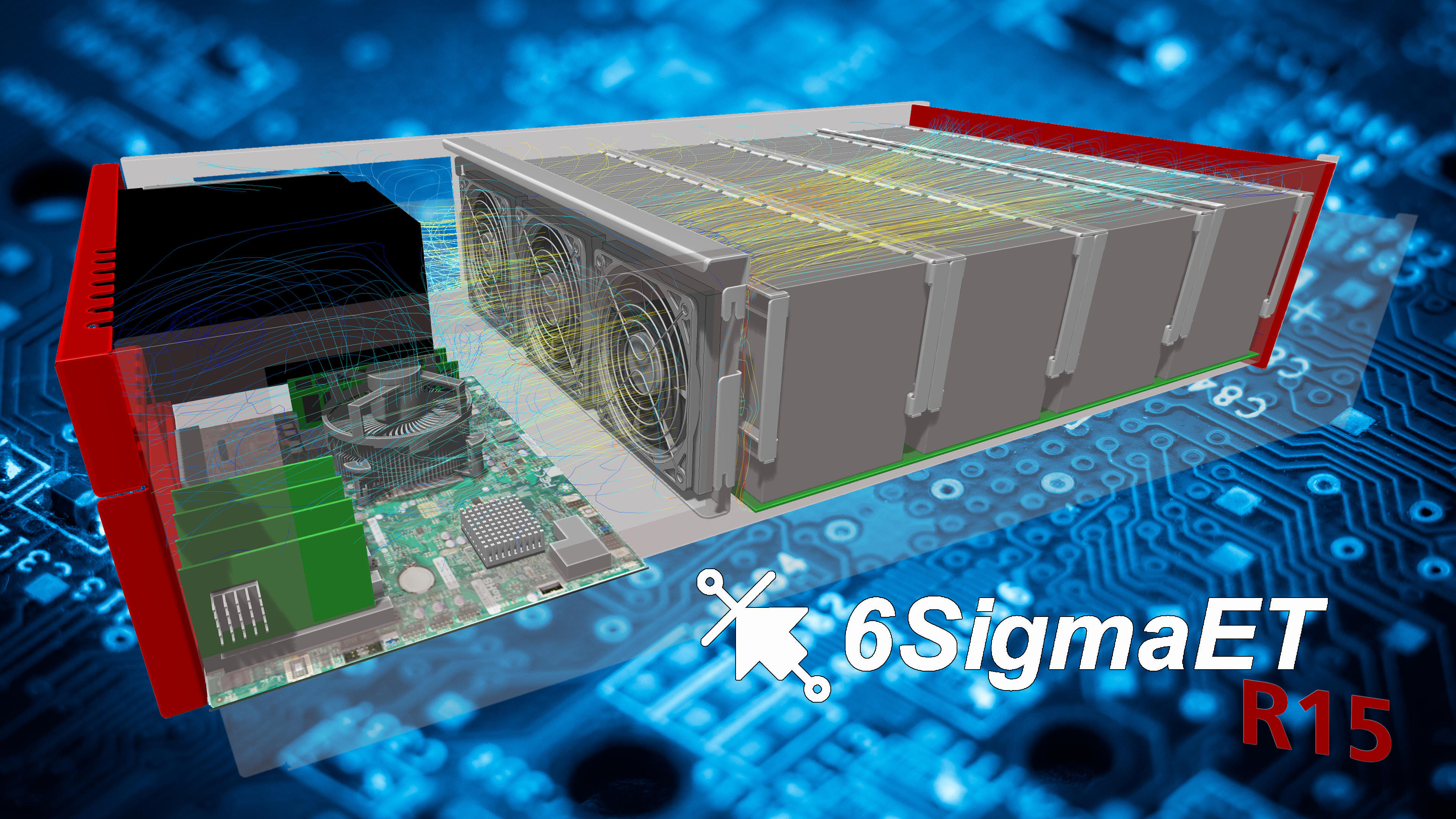 Improvement of many functions with regard to the cooperation with UL for Model Assisted Certification!
Through close cooperation with UL, we have further improved 6SigmaET in many functions. These individual improvements serve to take some sources of error off the user's hands in order to greatly accelerate the official certification routes with a verified simulation model using a CFD model and even partially replace them within device families.
A special training for the correct detailed modelling in 6SigmaET will be offered by ALPHA-Numerics later this year.
If you are interested in this topic, we recommend this article with link to the streamed presentation at UL International
Other cherry on the cake of the new Release 15 are
Use of the GPU for up to 100 times faster calculated radiation factors
Export of the model in STEP format for further processing in CAD systems
Script programming for model creation, solver control and automated evaluation via a new tool called CommandCenter
Model attributes can now be used extensively via a CSV file for model construction and variant creation.
Extended control for batch simulation (batch server) with priorities and scheduling
Extended menu view for programming time step widths of transient simulation tasks
Enhanced graphics view as a foretaste of a comprehensively improved graphics display in the upcoming Release 16
Completely revised functionality for creating automatic report templates